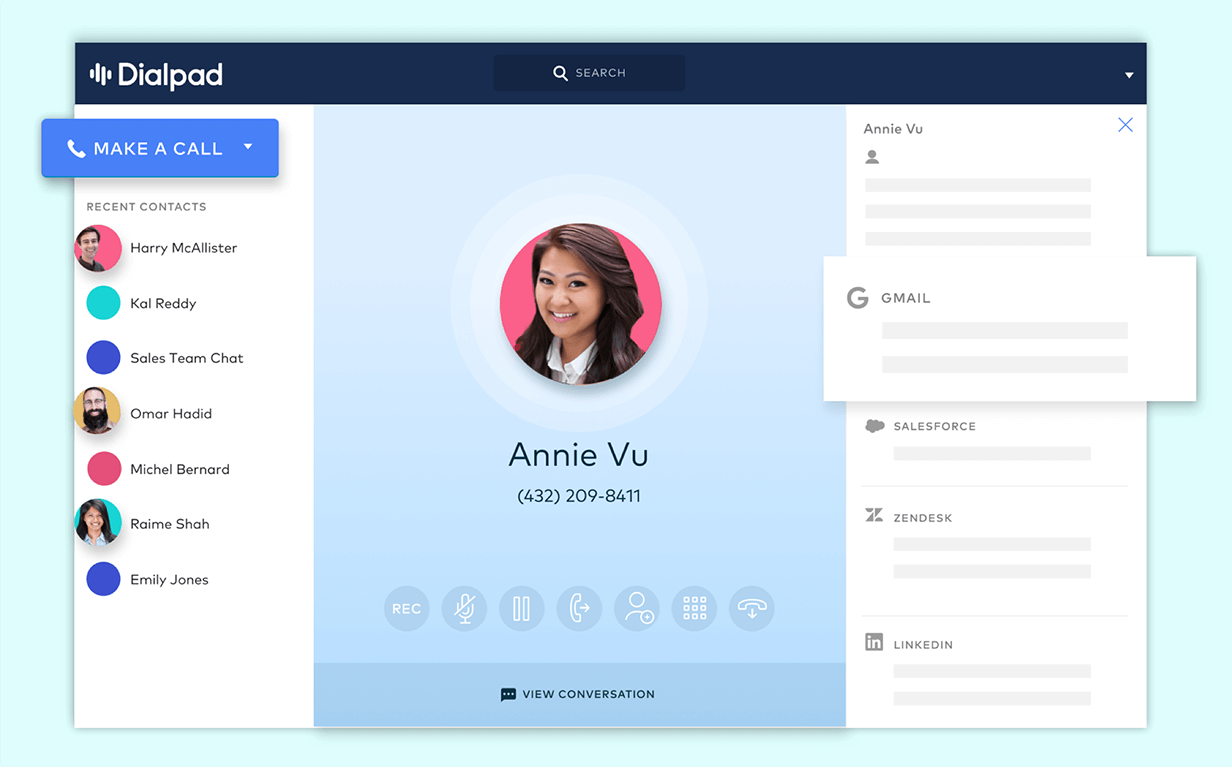 Small Business / Enterprise / UCaaS
Dialpad and Aircall: The New School of CCaaS / UCaaS
Rob Rodier
Contact Center and Call Center applications have long been some of the most complex products in all of telecom. Specialized routing, integrations with other systems, interactive voice recognition, granular reporting and a need for super high availability are some of the items that are considered when deploying these solutions. The contact center space has historically been dominated by names like Cisco, Avaya and Mitel which in many cases meant contact center solutions were developed for large, complex organizations with very specific needs. There have certainly been some contact center solutions geared for smaller businesses like the
Avaya IP Office CC
for example, but even this comes with proprietary hardware that requires professional installation, configuration and often management.
This has all changed with the introduction of some new-school "Contact Center as a Service" (CCaaS) offerings. These web-based, all-IP platforms do not rely on traditional telephony infrastructure to operate. Instead, they are deployed as software and run on bring-your-own Windows, macOS, iOS and Android clients. While Contact Center or Call Center type users will likely see the most value from these systems, they can also be deployed as a
conventional UCaaS system
to serve an entire office (more on this later)
.
While there are lots of new and established players in the space, this post will cover two systems that have caught our attention:
Dialpad
and
Aircall
. Both of these solutions target SMB clientele and can be deployed with as little as a single seat. Interestingly enough, no real "technical" expertise is required to implement these tools and they are designed to be mostly self-service. We can easily see a small company walking into a conference room not knowing anything about contact center applications work with either of these applications and come out an hour later with not only a configuration but also a solid understanding of the value these systems will deliver to the business. Additionally, we find that these two products are very well liked by their end users as evidenced by their tremendous growth.
Aircall just announced a $65m Series C funding round
while
Dialpad raised a Series D back in 2018
. Both companies have raised over $100m in capital.
Aircall phone client on MacOS
Aircall is purely focused on being an inbound and outbound contact center solution and offers 3 licensing tiers based on the functionality that the end user needs: Essentials ($30/month), Professional ($50/month) and "Custom" which is geared for larger users that may have unique needs and pricing demands. Aircall is built to be quickly and easily deployed and easy to manage and scale. Administration of the Aircall system is entirely web based, and actual utilization of the service requires an endpoint running Aircall's software client which is available for MacOS, iOS, Android and Windows.
Dialpad is a unified communications system (Business Phone System), inbound contact center solution (Contact Center), video conferencing platform (through UberConference) and outbound call center service "sales dialer". Each product has its own license and seamlessly interoperates in Dialpad's iOS, Android, MacOS, and Windows clients. In addition to Dialpad's software clients, their services can also interop with traditional IP endpoints, aka physical desk phones. While Dialpad offers a lot of different functionality with their range of products, they historically have been known as a CCaaS, much like Aircall.
SMB is the focus, for now
While these systems are lightweight and easy to use, they are ultimately not as capable as traditional enterprise-centric contact centers. While Dialpad especially seems to be inching towards enterprise-level contact center functionality, a business is still not likely going to be able to replace their
Cisco UCCE
with either of these offerings as they are somewhat limited in overall capacity and customizability versus a fully featured enterprise grade contact center.
For example, neither solution supports call queues >500 users and skills-based routing is single dimensional so agents cannot be assigned multiple skills within the same call center. Still, this is not really the intent (for now at least) of these systems - they target smaller organizations with less complex needs and resources, but who can gain incredible value in terms of efficiency and data from deploying these applications.
What do Dialpad and Aircall have in common?
Both of them are built around simplicity. You can literally have an entire system deployed, with integrations into Salesforce, Slack, Zendesk, or whatever you choose within a few minutes. These systems both have brilliantly easy-to-use UIs that remain consistent across all of their software clients.
They are also super easy to administer: new users can be added quickly, and reporting is straightforward. Even "big" changes like adjusting call flows is simply drag and drop or point and click.
Calling, messaging (internal, RTC, SMS), presence and call recording all come right out of the box with both solutions.
Dialpad phone client on Windows
What are some key differences between Aircall and Dialpad?
While these two competing solutions have quite a bit in common there are also some key differentiators that will be meaningful to some buyers. In short Dialpad is closer to an enterprise-capable solution than Aircall is. Further, Dialpad would be useful as a pure business phone system (as well as a CCaaS solution), while Aircall is best fit as a sales-centric contact center solution.
The first difference to note is that Dialpad will support physical IP phones / endpoints as a primary means of communicating through the platform. While Aircall will support conference and shared area phones they really prefer to stay away from supporting a large percentage of IP handsets. Dialpad also supports integration with legacy PBX systems via an on-premise gateway and can also support private connectivity to their cloud via MPLS/SD-WAN solutions.
Another differentiating factor is that Dialpad has a partnership with a video conferencing solution (UberConference) while Aircall does not. However, Dialpad requires an additional $15/mo per seat license to break limitations of their free UberConference license (similar to what you would find with the free version of Zoom). At the end of the day, you don't seem to gain much other than some UI-level integrations.
While Dialpad offers a dozen or so integrations into your favorite apps, Aircall has made a strategic decision to offer a much broader array of integrations. Shopify, Magento and Microsoft Teams are 3 examples (with many more) of integrations that Aircall has that Dialpad doesn't. Dialpad does however have an integration with ServiceNow that Aircall does not, so ultimately your mileage may vary. Dialpad has chosen to take a build/acquire approach to many facets of their product while Aircall has chosen to partner.
Can I use Dialpad or Aircall as my primary phone system?
The simple answer is yes. A better question is
should you?
By comparison, CCaaS solutions are much more feature-rich than a typical
UCaaS solution
, and therefore tend to demand a higher per-seat premium, for example Aircall's entry seat is $30/user. The going rate for a standard UCaaS seat is closer to $20, oftentimes less. Dialpad does seem to be focused on the standard phone system use case, as their most basic seat is $20 and offers feature parity with many UCaaS solutions, sans any sort of CRM integration which requires the Pro license which is $30.
Dialpad Standard (at $20/seat) is your best bet if you're looking for a pure phone system among both of these products, but do note that most top UCaaS competitors will be similarly priced and include a CRM integration.
If your organization is heavily biased towards users who are customer facing, then adding additional seats for a handful of users to keep everyone on the same system likely makes sense. However, if you have 300 employees and only 30 are truly contact center users, then deploying such a system for all users can be needlessly expensive.
The other thing companies need to be careful with is that it's so easy to add users in these products that one may end up adding seats without much thought and see recurring costs quickly spiral out of control. There are also some licenses that have a per minute charge for calls. Admins should be wary of who can add users and monitor via the portals.
Aircall automatically logging a call via integration with HubSpot
Setup for both systems is easy and straightforward - in fact, anyone that understands the business rules can set them up, be it your CRM admin or even a VP of Sales or Customer Service. Both Dialpad and Aircall are powerful, and can deliver a rich experience to both the company's own agents, as well as customers. The thought and effort required is not in the actual programming of the system, but more on how the business wants calls to flow. For example, both systems can ring all call center agents at once, or route based on which agent has been idle the longest or even some other preset order. What happens if all agents are busy; how long are they put on hold before they go to voicemail? Do you have someone who speaks a foreign language that calls can be directed to through the IVR? These are all extremely important business questions that require some thought and care in order to achieve best results.
It's so easy to administer these systems that if a specific business rule isn't working, making a change is nearly effortless. The ease of use of these systems also opens the door for other lines of thinking - perhaps maybe last month's top-performing rep wins first in the queue this month? These systems can deliver all sorts of value to the business.
Aircall initial setup flow
Who may lean toward Aircall?
We
really like Aircall and see it as an incredible platform for smaller teams and especially startups to leverage. Aircall has 3 different license types that organizations can choose on a per user basis, the most basic is "Essentials" that starts at $30/mo and offers basic functionality like IVR, call recording, analytics, ring groups and call distribution rules. However, the sweet spot for most organizations is likely in the $50/mo license which adds integration to Salesforce, live call monitoring, more advanced reporting and Aircall's "power dialer" feature which allows a user to load a list of contacts that the system will dial through automatically. These are all great features for modern sales and customer service teams. Aircall also offers a more customized "enterprise" license and pricing model for organizations that require over 100 seats.
Aircall has made it a point to focus on integrations and has even launched an
App Marketplace
. Chances are that Aircall will work with most customer-service centric applications that you may be using including
ZenDesk
and
Zapier
. The integration with
Shopify
for example will show recent order history with a hotlink directly into the customer's account.
Aircall's live call view with Shopify integration enabled.
Aircall represents a straightforward, no hassle means to enable a business to operate in a way that would have required significantly more investment just a few years ago. It allows organizations to provide a polished and professional experience for inbound calling customers while also providing enormous gains in efficiency for outbound teams. Best of all, it is extremely easy to use from both an administrative and end-user perspective. For startups that are focused on outbound campaigns and want to provide their teams with an efficiency tool that makes their reps' lives easier and more efficient while also enabling better records and data to be stored in a CRM or other platform Aircall is an absolute no brainer and highly recommended.
Who may lean more towards Dialpad?
We see Dialpad is a system that may appeal to an organization that needs to get a little bit more out of their contact center solution or needs to integrate it into a more complex environment. While Dialpad remains simple, easy to use, and easy to deploy, it also offers some more advanced and unique features.
In 2018,
Dialpad acquired a company called TalkIQ
, an AI company that signaled a formative move on what Dialpad wanted to become. The acquisition has enabled some of Dialpad's most highly touted features such as smart notes, which intelligently takes meeting notes in real time and tracks things like action items and follow ups. TalkIQ's tech also enabled "real time coaching" and "real time sentiment" which uses AI to help teams better respond to questions as well as analyze customer sentiment and intent signals. Dialpad wants to use data to make your organization work smarter and more effectively. It should also be noted that Aircall does offer some of these features by way of integration, an example of which can be seen in their partnership with
Gong
.
Dialpad's real time voice transcription
Dialpad's pricing is slightly more nuanced than Aircall's. While their entry price point starts at $20/mo which is less than Aircall's, pricing can quickly get significantly more expensive depending on which features your organization intends to use. Dialpad offers Dialpad Talk, Dialpad Support, UberConference, and Dialpad Sell (their power/auto dialer). A full list of features and pricing can be found
here
.
As outlined above in our section regarding the differences between Aircall and Dialpad, it is clear that Dialpad is catering more towards enterprise users by offering features like an on-prem gateway for PBX integration, support for SIP endpoints, and private network connectivity to the Dialpad cloud via SD-WAN or MPLS. Dialpad even supports fax functionality which you simply cannot get with Aircall. However even with all of this, Dialpad remains extremely easy to use and administer.
Dialpad's Coaching Groups feature
Outside of integrations, Dialpad offers most of the features that Aircall provides including power dialing, call recording, advanced analytics and reporting. Dialpad goes further by adding features like leaderboards, advanced call monitoring and an ability to survey callers after their interactions with your agents. However, what really sets Dialpad apart are the embedded artificial intelligence features like automated post call notes and AI base coaching and customer sentiment features. These help both in real time, and with post data analysis which can enable your business to provide an enhanced customer experience.
We truly believe that both of these systems are great and will check all of the boxes for many organizations. While Dialpad has built out an amazing amount of native functionality and can be integrated into both simple and complex environments, Aircall has taken an approach around providing a great CCaS experience around core functionalities while allowing organizations to opt into ancillary feature functionality through integrations. Dialpad is considerably more flexible, and will work in places where Aircall simply will not. Ultimately, you need to carefully understand your use case and needs and choose accordingly.
Although these systems are easy to use, we realize this stuff can be complex! If your company is serious about buying a new phone system or CCaaS solution, fill out our questionnaire
here
and we'll present you with best price quotes for free! Feel free to email us at
[email protected]
with any questions.
What are you waiting for? Let's get you pricing.
Not ready to buy? Stay up to date on our product!