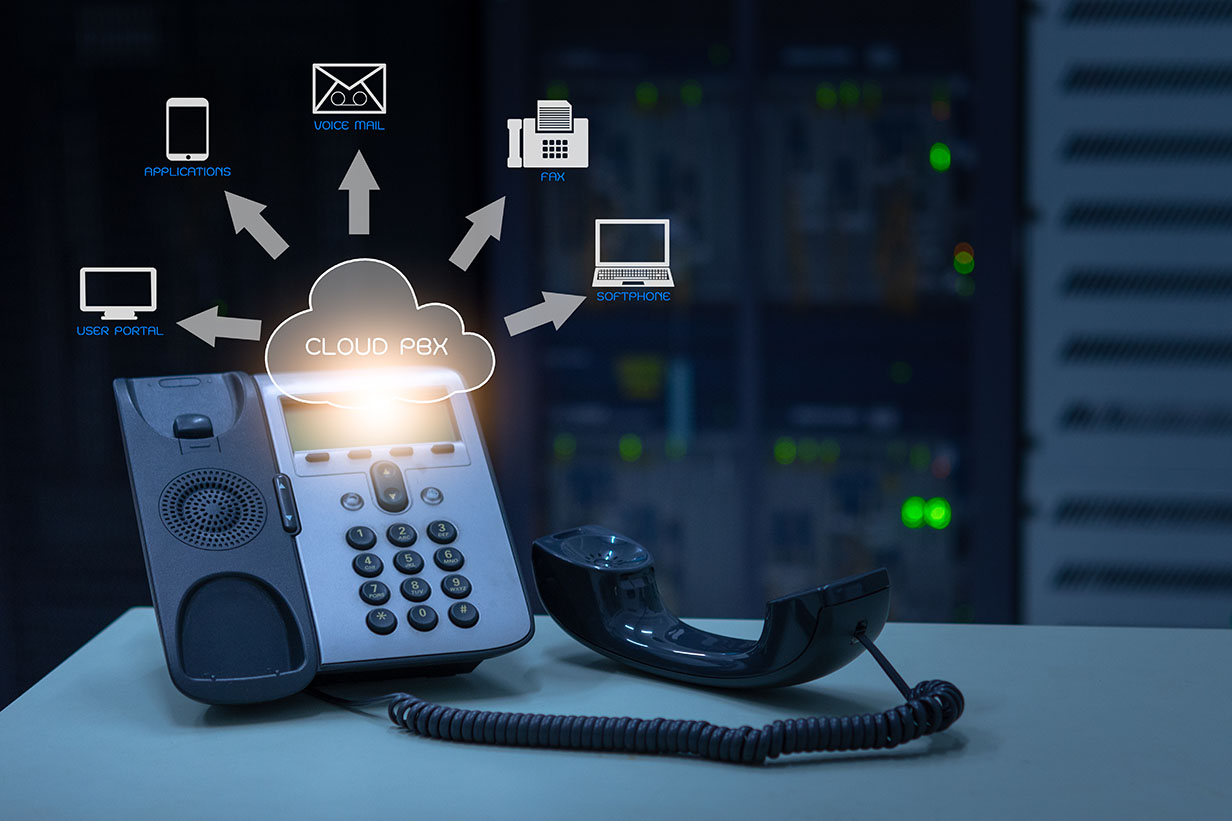 VoIP / UCaaS / Networking / Internet
The History of VoIP: From IP-PBX to Hosted PBX to UCaaS
Rob Rodier
Google will tell you that the first voice-over-IP (
VoIP
) "transmission" was made back in 1973 and was part of
ARPANET
, but even in the early 2000s this technology was still far from being widely adopted as businesses continued to opt for traditional "circuit switched" telephony solutions. This of course has changed, as over the last 20 years VoIP adoption has exploded and the market has seen exponential growth.
This post is going to explore the history of VoIP, looking into why carriers adopted it, why enterprises adopted it, how the technology overcame challenges on the path to critical mass, and how enterprise voice services slowly became a cloud-based managed service.
1990s: But first, why VoIP anyway?
During the late 90s a couple of important things happened that helped fuel the telecoms' boom and subsequent crash while also putting VoIP on a positive trajectory.
First, the
Telecommunications Act of 1996
which mandated local exchange carriers (BellSouth, Nynex, US West, etc) to allow leased access to their last mile networks so competitive local exchange carriers (CLECs) could enter the market and compete. This deregulated the market and changed it forever. As a result, telecom today continues to be one of the most intensely competitive markets in all of tech. With more competition came more innovation while carriers sought meaningful ways to bolster their value propositions.
Second, VoIP "soft switches" were maturing to the point where they became viable alternatives to traditional class 5 TDM switches like the
Nortel DMS
and
Lucent 5ESS
, transitioning carriers to VoIP before they moved customers on the same path. The early drivers of VoIP happened at the carrier level who by moving toward a single all-IP core network (with VoIP as a major step), derived value in greater flexibility, scalability, a long term vision that slowly moved them away from a circuit-switched architecture.
Pictures of a Nortel DMS-500 which was a popular TDM switch (Pre-VoIP) that was deployed by the Bells and many early CLECs. These switches often filled entire rooms and were designed to run with 100% uptime until they were decommissioned.
From an enterprise end-user perspective, VoIP promised many efficiencies both on the LAN side of the network as well as the carrier / service delivery side. On the carrier side, VoIP offered the ability to consolidate Internet and Voice circuits which had traditionally been delivered separately, allowing customers to increase their usable bandwidth. Instead of having separate, static channel allocations for Voice and Internet, you could now have an all IP connection and dynamically open and close voice paths as needed. If there were no active Voice calls, all of that capacity could be used to access the Internet. For many companies, this could effectively double their bandwidth at a time when utilization was beginning to explode.
Picture of a MetaSwitch 3510 Media Gateway which is an example of an IP-based soft-switch that was deployed by carriers in place of (or parallel to) legacy TDM switches in the early 2000s. The difference in size, power consumption and complexity versus the Nortel DMS and other Class 5 TDM switches is staggering.
On the LAN side, VoIP meant that companies needed to only run a single cable to each desktop which could cut structured cabling costs in half. Many early VoIP systems also allowed, for the first time, end users to manage their extension through a portal and control how and when they would take calls.
It is important to keep in mind that as we discuss "VoIP", in most cases, especially early on, we are talking about passing voice packets across private networks. The ability for an enterprise to route high quality calls over the public Internet came
much
later on.
Early 2000s: It wasn't all smooth sailing early on
Many VoIP deployments in the early 2000s were riddled with challenges and issues, and the early promises of across-the-board superiority vs. circuit switched architecture were not recognized. The biggest challenge proved to be the reality that voice calls are (and remain) very sensitive to connection quality. So while they may not require a ton of bandwidth, things like latency, jitter and packet loss really matter.
Many carriers had quality issues with moving calls across their networks, and even enterprises saw problems with getting traffic from A to B on their LANs. For longer than a little while, having a second LAN dedicated to voice was a real thing. Carriers eventually got these issues ironed out, but for almost a decade, "VoIP" often came with concerns about quality and companies that were trying to pass traffic over the public Internet (away from their LANs or carrier controlled private circuits) found such service to be hit-or-miss.
Still, companies (both providers and enterprises) who carefully planned and followed best practices were able to achieve the majority of the value proposition by combining VoIP and traditional telephony technologies with private network deployments.
The early days of enterprise VoIP and IP-PBXs
Early VoIP from the perspective of enterprises typically came in the form of an
IP-PBX
, with VoIP being deployed on the LAN side of the network. The Cisco Call Manager, Avaya IP Office, and 3Com NBX/VCX are good examples of systems that were widely adopted in the enterprise space and allowed end users to run IP phones, which simplified infrastructure and cabling, and for the first time allowed individual users the ability to configure via a portal how they wanted their phone to work. Features like
softphones
and
find me / follow me
became available to a much wider audience and VoIP was better positioned to offer value propositions around operational efficiency. While these systems ran VoIP (often h.323 or SIP protocols) on the LAN side, it was very common that they were fitted with ISDN-PRI or Analog FXO lines cards that are both traditional TDM phone services in order to make external calls.
As bandwidth increased and carriers got better at delivering VoIP end-to-end, these systems became commonly configured for SIP trunking services which for the first time finally delivered all-IP transmission from the desktop to the carrier soft switch. Additionally, IP-PBXs allowed customers to connect either multiple call processors or even remote handsets together over a WAN. This was the single largest driver of MPLS sales and some companies even colocated their call processors in data centers and used single systems to serve multiple offices over a WAN. This architecture was in essence "private cloud telephony" even though this specific nomenclature was not widely used at the time.
Picture of a 3Com VCX-7100 media gateway, part of 3Com's 7000 series which targeted mid to large enterprise.
2010: "Hosted PBX" moved call processing to the cloud
Around 2010 a new type of VoIP deployment was beginning to gain adoption, "Hosted VoIP," "Hosted PBX," or "Virtual PBX". Instead of a business purchasing an IP-PBX that was installed at their office or data center, the business outsourced this to a 3rd party and consumed it "as-a-service" with call processing handled in a provider's cloud. The Hosted PBX has been adopted by organizations of all sizes, but the majority of the market initially was SMB and mid-market. This was probably less due to technical requirements and capabilities, and more because many large enterprises were mid-cycle in their initial VoIP deployments.
Hosted VoIP provides operational efficiency and lower risk to businesses as they are no longer required to manage or even buy a full on-premise PBX system. Customers are able to get access to properly engineered, high availability phone infrastructure that is location agnostic and can serve all of their users and offices. Historically, if an office has a power surge due to weather, the voice provider came out and replaced whatever had blown up. No longer needed in the world of the Hosted PBX! Hosted PBX brought softphones and "anywhere" sorts of connectivity easily and more reliably than early premise-based IP-PBX deployments.
Many major carriers provided hosted PBX solutions that ran across their own private networks, and by doing so they were able to ensure call quality by avoiding the public Internet. However, this is also the first point in time where there were viable companies going to market as pure play HPBX providers, and provisioning services that were designed to work over the public internet.
RingCentral
and
Vonage
are both good examples: early on they were focused on small business and residential users, but quickly expanded their offerings and found success upmarket and in the enterprise space.
Polycom VVX-600, a modern executive business phone available as an endpoint from many HPBX/UCaaS providers.
If you have questions about UCaaS, SD-WAN or any other type of network infrastructure technology please feel free to send me an email (rob AT lightyear DOT ai) anytime. If you are ready to get pricing online by answering a few simple questions, please fill out our

questionnaire

.
Present Day: Unified Communications as a Service (UCaaS)
As it stands today, many HPBX solutions have evolved into Unified Communications provided as a Service, or
UCaaS
. In terms of network topology, these solutions share the same underlying foundation and premises as hosted PBX but two primary things differentiate UCaaS from early HPBX offerings. The first is that UCaaS solutions are not just voice centric, and acknowledge that many enterprises rely as much or even more on instant messaging and video for productivity and collaboration. Additionally, companies no longer look at their voice as a siloed point solution, but instead expect voice to be integrated into their existing applications in order to provide functionality like screen pops, click to call, voicemail transcription and more. The better UCaaS solutions also focus a lot of attention on the user experience, today's for example are so slick and easy to use that a number of companies are doing away with physical handsets altogether. Voice, messaging and video are simply applications that run on the network with everything else.
The second differentiator from earlier HPBX solutions is that UCaaS is much more often deployed by leveraging the public internet as transport. This has been enabled by both strategic peering relationships to shorten routes, and also by the fact that the
Internet has gotten a whole lot better
over the last decade. UCaaS just would not have worked well with 2010's Internet, but now with a little planning and attention to detail today's UCaaS deployments can be as reliable as legacy voice communications while offering a whole lot more functionality. The UCaaS landscape is filled with new, innovative companies that we find very easy to work with. Who your underlying internet and network providers are is less important than ever - and one of the most existing aspects about UCaaS is that you can move away from a legacy carrier to a more nimble and focused provider and gain a much better experience in most cases.
Where do things stand today?
IP-PBX, HPBX and UCaaS continue to be available as options to enterprises of all sizes today.
IP-PBXs in certain situations can offer a lower total cost of ownership and still provide all of the features and functionality that a modern enterprise needs. The disadvantage we see here is that more complex deployments will require extensive planning and engineering - a good example is that any UCaaS or Hosted PBX offering from a reputable company is going to be resilient and highly available, with diverse trunking and robust peering. For an enterprise to accomplish this on their own is possible, but not easy or cheap. Additionally, we seem to have bottomed out on pricing for networking and trunking technologies like MPLS, PRI and even SIP trunking solutions which these systems require to utilize. Buyers can expect less choice and the cost of these underlying services that PBXs require to increase with time.
The "Hosted PBX" of today is really nothing more than a basic UCaaS solution that forgoes video, IM, and other types of features. These solutions continue to be available from a wide range of providers at very aggressive rates and in many cases without long term commitments.
UCaaS is where market attention is at today and the technology has been able to take what has been a waning use case in voice and make it exciting and relevant to modern enterprises by bringing it closer to other communication and collaboration tools. We wrote before about how UCaaS and not SD-WAN killed MPLS, and UCaaS paired with an
SD-WAN
solution brings secure, reliable, efficient and available anywhere solutions engineered for the modern, flexible workforce with a level of effort to deploy that is lower than ever before. Enterprise buyers who have deployed and continue to manage IP-PBXs along are often shocked at how easy it is to get detailed reporting on users, call activity and even network quality.
What are you waiting for? Let's get you pricing.
Not ready to buy? Stay up to date on our product!