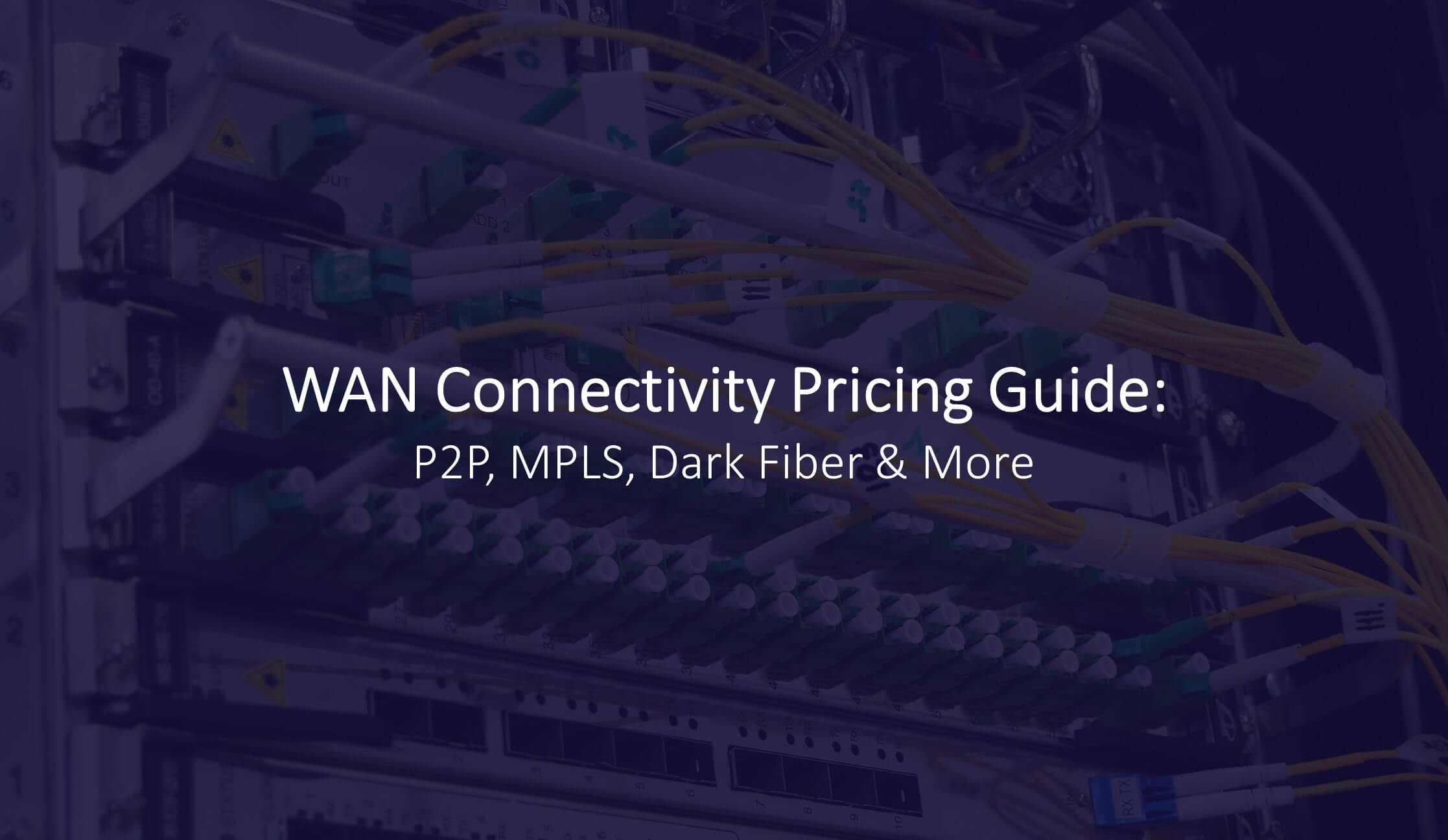 Enterprise / Networking
WAN Connectivity Pricing Guide: P2P, MPLS, Dark Fiber & More
Ginger Woolridge
Lightyear's WAN Pricing Data
Our data set includes ~15k quotes served over the past 2 years and has been scrubbed for outliers (ridiculously high / low prices)

In instances where we show a highest and lowest observation, the quotes displayed most often represent abnormal cases that should not be expected and go to exhibit the huge variance and uncertainty you will see in telecom pricing.

We partner with hundreds of providers and our data set includes connectivity quotes from all major carriers, and many regional carriers as well

Quotes are distributed all around the US, with no heavy regional bias. However, they do typically fall in urban areas.
Key Terms that impact your WAN pricing
Your bandwidth requirements

If your connectivity is in data center vs not in a data center
On-net vs. off-net (and related build cost)
WAN pricing takeaways - TL;DR
MPLS

- traditional, carrier managed, meshed and typically more expensive

P2P

- Often more expensive than Wave, but costs are dropping due to substantial current growth

Wave

- the (semi) new guy in town, providing ultra-high bandwidth at an efficient cost (often cheaper than MPLS and P2P)

Dark Fiber

- Coolest name of the bunch, hands down. But be cautious: DF can appear quite cost-effective on the surface, but you have to buy and manage the electronics on your own

SD-WAN

- Potentially the most cost-effective, but correct implementation is very nuanced
Breaking Down Point-to-Point (P2P) WAN Private Lines
Available in speeds ranging from 5 mbps to 100 gbps

"Flat" network type that allows end users complete control over routing, traffic queuing, etc. without any intervention from the carrier

Many providers allow enterprises to opt into special features like dynamic routing, CoS and even data encryption

Tends to be very low latency
Can be expensive and complex to scale especially in site to multi-site topologies.

Unlike MPLS, telecom providers have limited troubleshooting abilities
Class of Service (CoS) - superior latency, jitter and packet loss guarantees

Protected vs. Non-Protected Circuits - dynamic routing across the carrier backbone in order to circumvent network provider issues to ensure availability

Encryption - additional layer of carrier provided security

Whether or not your router is managed - nowadays, they are hardly ever managed

And, of course, the standard four factors we already defined above: bandwidth requirements, if a build is required, if you are in or out of a data center, and your service term length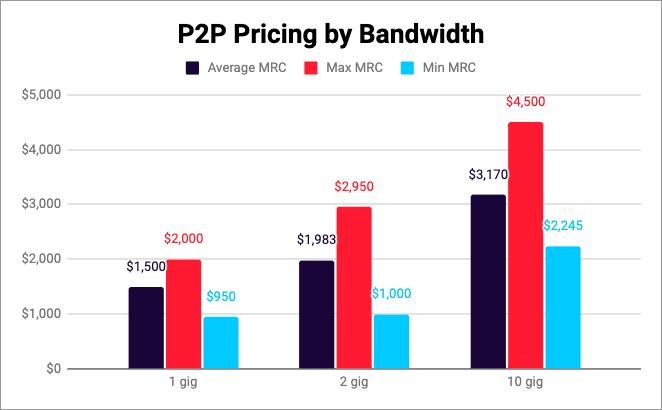 Lightyear P2P Pricing POV
Breaking Down Point-to-Point (P2P) WAN Wavelength Services
Cheaper and faster than legacy P2P

Regional distance rarely a factor in pricing unless international

Efficiency of fiber drives down costs

Designed for high-capacity WANs
International connectivity becomes expensive and availability is limited.

Service tiers and throughput are limited to 1, 10, 40 and 100 gbps in most cases.

Most carriers are still building out capacity to offer waves in all markets- availability may be limited especially in tier 2 and 3 markets.
And, of course, the standard four factors we already defined above: bandwidth requirements, if a build is required, if you are in or out of a data center, and your service term length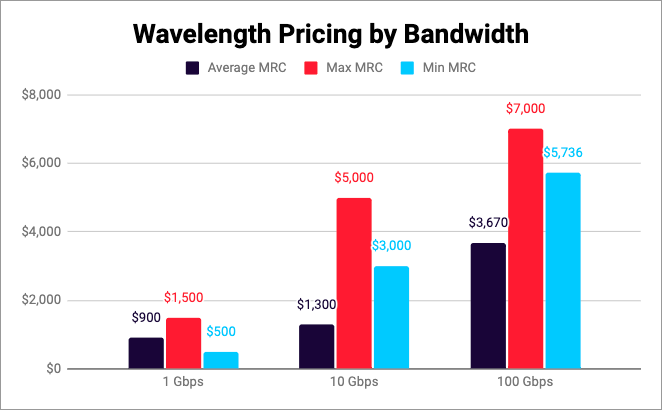 Lightyear Wavelength Pricing POV
Outstanding bandwidth potential

Based on physical location and utilization, some savings are possible

Enterprises are completely in control of all elements of services.
Availability can be very difficult. Many large carriers do not offer dark fiber as it is not really a "service".

Completely unmanaged service that requires enterprises to provide all optical gear on both ends.

Cost/utilization ratio can be prohibitive

While pricing is based on distance, there can be other arbitrary elements considered when providers quote this service like who is going to use it, is the building commercial or residential, market type, etc.
Dark Fiber Pricing Factors
Often charged by the strand

Cost of electronics (not included in cost of circuit)
Lightyear Dark Fiber Pricing POV
Breaking Down Multiprotocol Label Switching (MPLS)
Fully managed, meshed network providing any-to-any connectivity

QoS tiers available to maximize performance of some traffic vs others (aka "express lanes")
Optimized for private datacenter hub and spoke types of networks.

More expensive than traditional Ethernet options as the same provider must provide the MPLS connections at every site on the network even if they are not optimized to do so in a specific market. I.e. Verizon providing an MPLS connection in an AT&T service area.

Service provider controls network configurations and provides limited reporting/analytics

WAN optimization to streamline delivery adds extra costs

No "paths" to public clouds

High cost per Mbps vs P2P and wave services

All "eggs" in a single basket
Quality of Service / traffic queuing

And, of course, the standard four factors we already defined above: bandwidth requirements, if a build is required, if you are in or out of a data center, and your service term length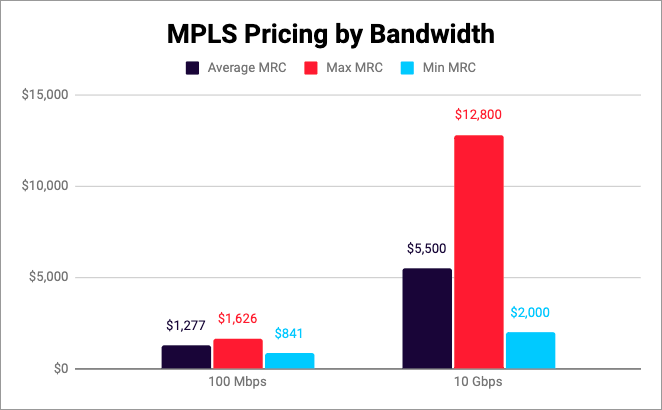 Lightyear MPLS Pricing POV
Software-Defined WAN (SD-WAN): What Is It?
Improves business agility and ability to scale facilities footprint without reliance on dedicated transport

Software overlays provide intelligent network management and granular reporting of performance, application utilization, top talkers, etc.

Transport-agnosticism often reduces costs

Designed for increased reliance on cloud services oftentimes with dedicated peering into major public cloud and SaaS platforms

Ability to massage traffic, perform error correction and set priority queues for traffic

API integrations on many platforms enabling custom integrations, reporting, monitoring

Vendor-level guarantees of consistent user experience
Fragmented landscape with less certainty on performance metrics vs MPLS/P2P

Not as capable as MPLS in some centralized hub and spoke environments

Technically public network in many cases, which raises security concerns for some customer profiles
There are numerous SD-WAN deployment models that affect pricing, including managed, outsourced, and self-serve

The number of nodes in your organization's network

Capability of the SD-WAN hardware appliances (# of appliances, # of power supplies, # of WAN interfaces, etc.)

The level of security you require between locations and any remote workers (

SASE

is the security add-on option)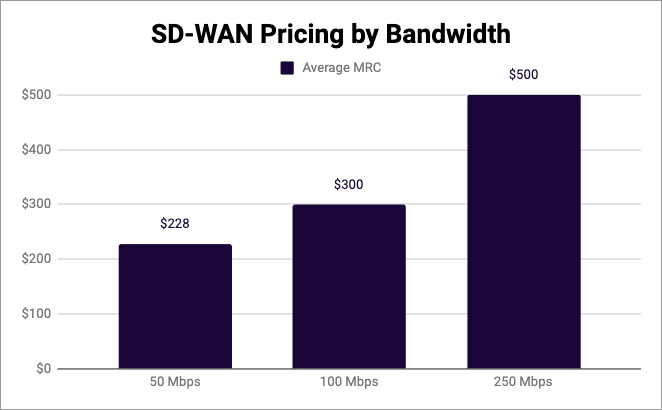 Lightyear SD-WAN Pricing POV
Fee Structures: Understanding the Cost to Your Business
3 Factors That Don't Impact WAN Pricing
1. Service Level Agreements (SLAs)
Additional terms that do impact your WAN pricing
Type 1 vs. Type 2 providers
WAN Connectivity | Know More, Save More
Want to learn more about how Lightyear can help you?
Let us show you the product and discuss specifics on how it might be helpful.
Not ready to buy?
Stay up to date on our product, straight to your inbox every month.